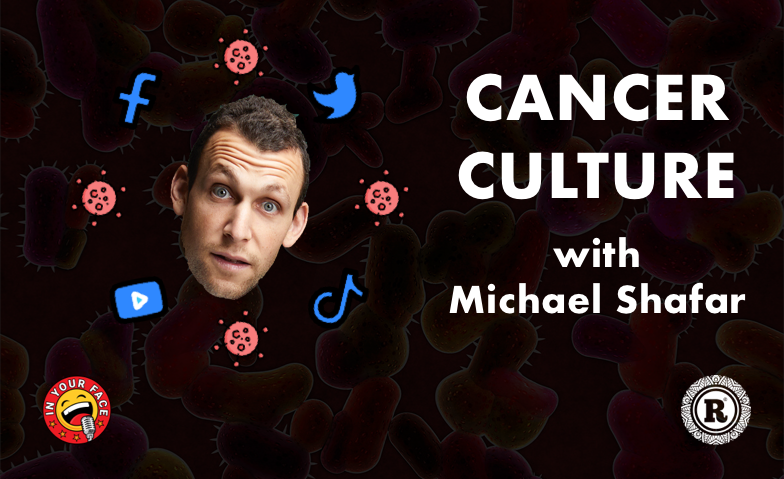 Cancel Culture with Michael Shafar
Get ready for a night of laughs and culinary delights as Australian headlining comedian Michael Shafar lands in Zürich for an exclusive drop-in show at ROBINs little italy! Known for his Amazon Prime special A(LIVE) and his YouTube special "Alright, Next Joke", Michael is jetting straight in from Down Under to serve up some fresh comedy alongside ROBIN's world-class New York-style pizza and cocktails. This is your unique chance to catch a sneak-peek of his new material before his full-length show 'Well Worth the Chemo' takes center stage at ComedyHaus on Friday. It's a night of food, fun, and belly laughs you won't want to miss!
When?
Thu 21st Sept at the ROBIN's - Doors Open 7:30pm
ABOUT MICHAEL SHAFAR - From Law to Laughs, A Journey Well Worth the Chemo
Michael Shafar is no ordinary comedian. Hailing from Australia, he took the bold step of leaving a promising career in law to pursue his true calling: making people laugh. With a dedication that has even won over his initially skeptical Jewish mother, Michael has become a major name in the comedy scene, both in Australia and around the globe.
In 2023, he's taking his unique brand of humor on a worldwide tour with his latest show, "Well Worth the Chemo." This tour follows hot on the heels of his immensely popular specials: "(A)LIVE," which is currently streaming on Amazon Prime, and "Alright, Next Joke" available for laughs on YouTube.
Michael is a force to be reckoned with on social media as well, boasting a following of over 100,000 people across various platforms. His online sketches and performances have garnered more than 80 million views in just the past year. From Australia to New Zealand, Asia, the United States, and even international waters, Michael's comedy knows no bounds.
Don't miss the chance to see this headlining act in action, a comedian whose journey through life's ups and downs has been nothing short of inspirational—and uproariously funny.
More about Michael at michaelshafar.com
IN YOUR FACE Presents
From time to time IN YOUR FACE Comedy presents well known comedians, perhaps travelling through Switzerland, giving them an intimate setting to try new material.
Shows happen at ROBIN's - a coffee bar during the day and delicious pizza restaurant. In the evening the bars open... Check out robins-coffee.ch and robins-littleitaly.ch for an impression
Getting There
Any tram or bus that stops at Central then walk around the corner to ROBIN's - directions to the ROBINs on Google Maps here.